US Importers Sink $5.19B into Freight Services
Supply Chain Reactions
A Condensed Update For American Shippers
---
Quote of the Issue:
"Gratitude, like faith, is a muscle. The more you use it, the stronger it grows."
–  Alan Cohen. 
---
Paying More for Less Reliability with Freight Services
ShapLight Focus: US importers paid $5.19B in freight services during February 2021, up from $1.95B in February 2020
2021 YTD carrier schedule reliability remains at historically low levels; currently, fewer than 20% of vessels are arriving on time to the US
In March, approximately 200,000 TEU of capacity were 'operationally' blanked; this represents over 18% of Asia-US capacity
2020 Steamship Profit Highlights:

Maersk produced $2.9B in profits for 2020

ONE expects to hit $2.5B in 2020 net profit

Hyundai, which has lost money for more than a decade, reported 2020 record-breaking profits of $830M, which is more than a $1B turnaround from 2019 results

Continuing an alarming trend, the Maersk Eindhoven suffered propulsion failure, resulting in the loss of 260 containers overboard and damage to an additional 65
Although the cost per FEU continues to be truly eye-popping, the average cost of a premium container from Asia to the US East Coast (USEC) has been stable since mid-January
---
Chart of the Issue:
Please see the chart of the issue below: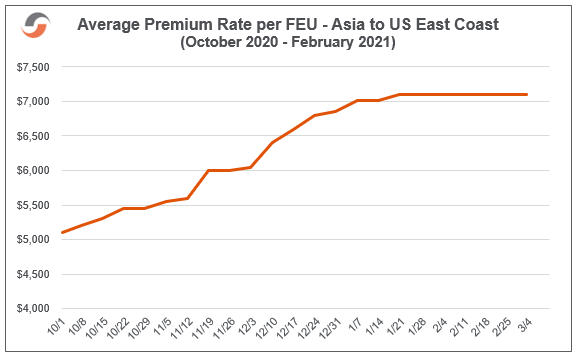 ---
Gov Focus: Biden Administration Softens 301 Stance with Europe
ShapLight Focus: By value, US trade with the EU is 13% greater than with China; a total of
$720B of goods and services are exchanged with the EU compared to $635B with China
Effective March 11th, Section 301 tariffs on EU products – including wines, liquors, and foodstuffs – were suspended for four months to give negotiators further time for review
It appears that the now infamous squabble between the EU and the US over aircraft and aircraft parts may finally be nearing a resolution in light of the decision to temporarily suspend the 15% levy on these commodities
The final phase of APHIS Core integration with ACE began March 15, 2021
On March 4th, all Section 301 tariffs for products from the United Kingdom (UK) were lifted; they will remain suspended at least until the US celebrates our independence from the UK
Airline Financial Woes to Continue in '21 Despite Positive Cargo News
ShapLight Focus: The International Air Transport Association (IATA) estimates the airline industry will lose between $75B to $95B in 2021 due to lost passenger volumes and revenues
Between January and February 2021, air cargo demand has matched demand for the same months in 2020; these are the first months not showing a decline since the onset of the pandemic
While demand has been flat compared to a year ago, global airfreight rates have increased by almost 75% year-on-year
Because of significantly diminished passenger aircraft belly space (which provides roughly 50% of total global air capacity), YTD air cargo load factors are up almost 20% in 2021
Asia and the United States are the only regions globally showing year-on-year growth as an air cargo origin; the US Midwest has expanded volumes by an impressive 13%
Express package shipping is up 40% year-on-year globally
In normal times, 33% of world trade by value ships by air
---
Please note the following three-month airfreight rate trend charts: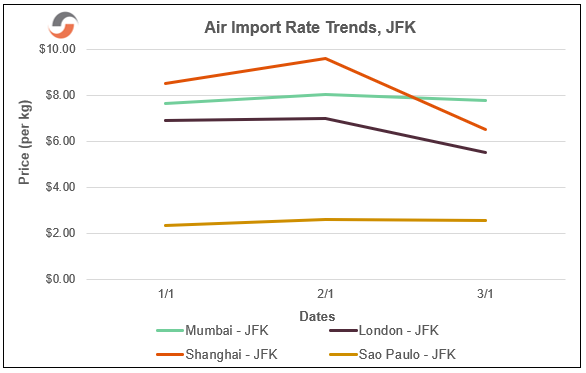 ---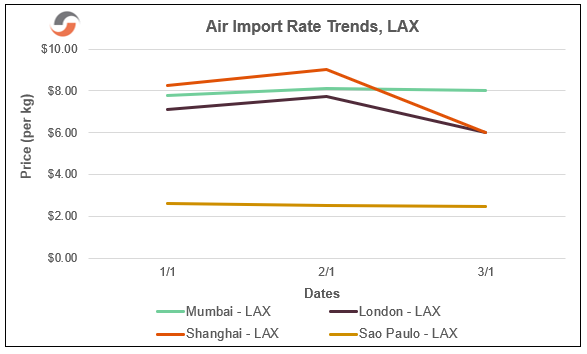 Poor Trucking Supply + Equipment Dislocation + Congested Ports = Importers & Exporters Seeking Therapy and Hair Loss Remedies
ShapLight Focus: Please see our map of average dwell times throughout US ports below: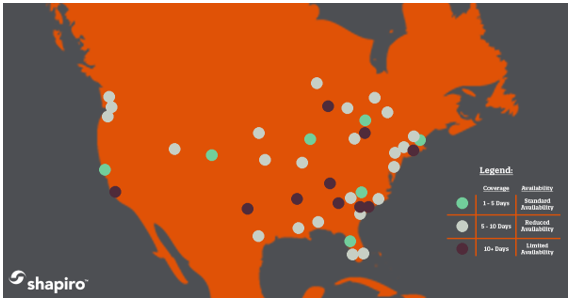 ---
Ocean Freight Import Rate Trend Charts
Ocean Import FAK Rates to US West Coast (per 40'):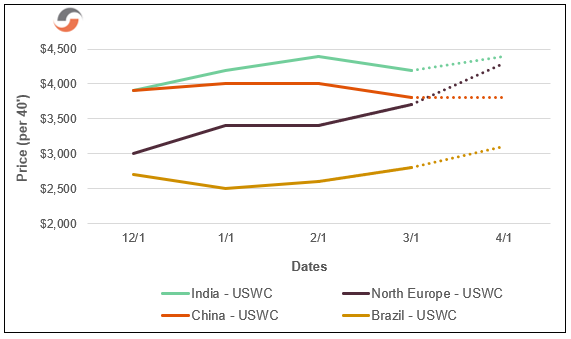 Ocean Import FAK Rates to US East Coast (per 40'):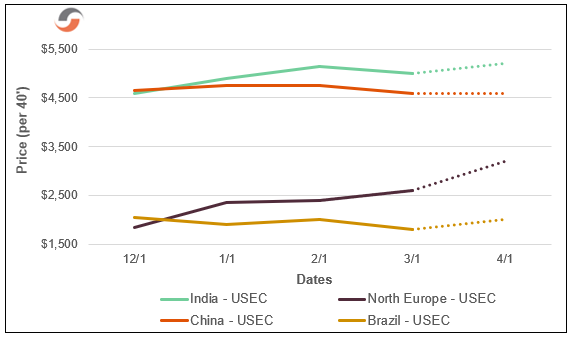 ---
Our Expert

Shap

inion
7 Reasons Importers Might Just Roll a '7' in the Shipping Game of Craps in '21
In 2020, every importer became a gambler. You high-rollers know that rolling a '7' at the Craps table is great on your opening roll (called the 'come-out roll') but is deadly thereafter. And, let's face it, could there be a better metaphor for what is happening today than 'Craps'…?!
So today, we'll look closely at the circus of economic possibilities, the carnival of carrier realities, and the casino of 2021 freight negotiations to understand who might have the hot hand, the best cards, or the all-powerful 'ace in the hole.'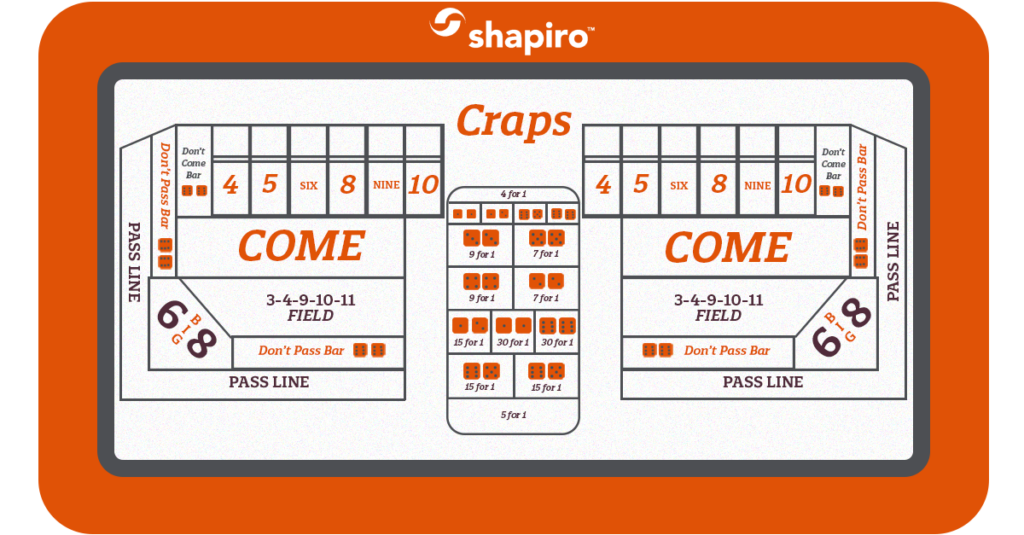 The Argument for Winning 7 in Shipping Craps:
All bets were off in the US services economy during the pandemic as Americans placed our purchase power wagers on goods (especially durable goods). In normal times, we put our money where our mouth is – restaurants – and double down on travel, entertainment, gyms, etc., and spend $8.5 trillion on services annually. Placing our chips on services should slow demand for goods (which grew to $4.5 trillion in 2020).
In 2020, importers of personal protective equipment (PPE) hit the jackpot, as all of us in the global casino donned masks and wrung our hands with sanitizer (to say nothing of the equipment and medical supplies needed by the heroes in the medical field). The smart money is on a diminishment in PPE for 2021.
Somewhat quietly, manufacturers have been forced to bet the farm on raw materials with costs doubling for many essentials. This will certainly up the ante on the costs for imported goods.
Ironically, the steamship industry's hot hand on rates and playing the percentages on capacity controls essentially doubled ocean shipping costs. As retail rates rise, US consumers will eventually say 'no dice' and reduce consumption.
Three true tycoons of the Global Gaming House aspire to have the tallest stacks of chips on planet Earth…Maersk, MSC, and COSCO. And very quietly these fat cats, and others, have announced new services or upgrade plans for existing strings. Aspirations to be #1 must eventually sweeten the pot of capacity – and that pot is already being slowly sweetened in 2021.
Economists are playing the percentages that the US dollar will weaken in 2021. This is lousy luck of the draw for the relative cost of imported merchandise.
The US federal deficit is at record levels as a percentage of GDP; this very well could stack the cards against consumers through high taxation and a sputtering broader economy.
Speed Round Reasons for a Losing 7:
Yesterday's demand is still with us in the form of cargo backlogs.
$1400 stimulus checks are hitting US bank accounts at just the right time for consumer spending.
Get rid of those sweatpants (PLEASE!); apparel should boom again.
Auto parts and other parts and accessories should rise to complement increased travel.
As the restaurant trade wakes up, booze and food imports will remain strong.
Ecommerce shipping is here to stay, and imports fuel that segment.
Americans are still moving, selling houses, buying houses, and deciding where to live…this tends to propel sales of furniture, appliances, household goods, and home repair items.
It is a safe bet that we will be paying more to stay at the shipping table in 2021 than we THOUGHT we'd be paying 2020. But, if you play your cards right, you will pay significantly less than you ACTUALLY PAID in 2020. Your aces in the hole are keeping a percentage of cargo for FAK side bets later in 2021 and learning all the gaming rooms in the casino.
In 2021, you need more carriers and more NVOs in the mix to improve your odds for cost and cargo flow success. We are down to the wire on contract season at a time that is undeniably in the ocean carriers' favor. However, you can be Cool Hand Luke by not over-committing to a bad hand… in fact, you might just be the winner, winner chicken dinner in this madhouse shipping casino.
---
Shap Fact of the Issue:
Of the 17 million shipping containers in the world, only 6 million are currently being used for shipping or practical purposes; remarkably, only 35% of the global fleet of containers is in use.
---
The leadership and staff of Shapiro understand the personal and business anxiety each of you is experiencing. We want nothing but safety today and a return to normalcy tomorrow for you and your families. Please reach out to us if you have any questions—or if we can assist you in any way.
---