US Alcohol Sales in High Spirits
Supply Chain Reactions
A Condensed Update For American Shippers
---
Quote of the Issue:
"Don't ever make decisions based on fear. Make decisions based on hope and possibility"
–  Michelle Obama
---
US Alcohol Sales: Wine and Spirits Proving to be "Essential" for Americans
ShapLight Focus: US alcohol sales have been 20% higher or more year-over-year for 8 straight weeks with wine sales topping a 30% increase for 2020
The USDA's Farmers to Families Food Box Program has delivered more than 20 million food boxes in support of American farmers and families
New Zealand, Australia, Singapore, Canada, and Chile have committed to removing existing trade barriers for 120 types of medical supplies to improve cargo flows
US casual dining coverage has reached 50% with 87% of restaurants open but at diminished capacity
The US Department of Defense signed a $100M agreement with the US International Development Finance Corporation to subsidize growth in US medical product manufacturing capabilities
The Small Business Administration is accepting Economic Injury Disaster Loan applications from qualified small businesses and US agricultural enterprises
As countries grapple with recent failures in the global medical supply chain, the WTO has stressed that importing and foreign sourcing are not the problem; it is the dependence on single suppliers and origins that create the failures
Government Corner: The US Threatens a Second Trade War
ShapLight, Focus: The number of positive COVID tests in CBP now nears 700
The US has threatened new or increased tariffs on $3.1 billion of European exports, raising some duties to 100% as soon as mid-August; the focus will be primarily on luxury food and wines and spirits from Germany, France, Spain, and the UK; the threat is just the latest chapter of a now 15-year-old World Trade Organization (WTO) battle over subsidies to Airbus by the EU and to Boeing by the US
The US Environmental Protection Agency (EPA) ordered eCommerce platforms, such as Amazon and eBay, to immediately halt the sale of a range of "pesticide" products, such as "epidemic prevention bleach" and "coronavirus disinfectant"
Starting July 1st, the USMCA will officially replace NAFTA
Fish and Wildlife will become mandatory in ACE starting July 6th; this covers 268 tariff codes that may have augmented filing requirements
The USDA delivered an additional $288 million to the Coronavirus Financial Assistance Program (CFAP); CFAP payments to American farmers have reached over $1 billion
Despite Governmental Aid, Expectations are Bleak for GDP
ShapLight Focus: The global total of COVID-related financial aid for companies and workers has now topped $11 trillion
The International Monetary Fund (IMF) downgraded their already gloomy outlooks for GDP in 2020; they are now predicting a decline of 5% globally, 8% for the US, and over 11% for the EU and UK
Total unemployment benefit payments in the US reached almost $23 billion in May; this figure is more than 10 times May 2019 and is an all-time US record
The Morgan Stanley Capital International's world index of global stocks is now 7% down since January's Wuhan lockdown
US Transportation Infrastructure
ShapLight Focus: As of June 12, transportation (excluding airlines) and warehousing firms have received 161,794 Payroll Protection Program loans with a total value of $16.4 billion; this represents less than 5% of the program's total allocations
The US DOT has begun funding the Infrastructure for Rebuilding America (INFRA) program; they recently announced that the Port of Houston will receive $79.4 million
Industrial real estate experts are forecasting an increased demand for warehouse space topping 500 million square feet in the next two years due to the fact that e-commerce fulfillment requires three times the warehouse space of traditional warehousing; 500 million square feet is approximating 14,000 acres or the size of Manhattan
The Cass Freight Index, a broad indicator of US trucking health, was down over 20% in May 2020 vs. 2019 for both total shipment volume and shipper trucking expenditures
Trucking data for June, however, shows marked improvements in two key ratios; the loads per truck index is up 38%, and the avg rate per mile is up almost 10%
Intermodal rail moves continue to be down 12-14% per week, and analysts believe the US rail slow-down will be more persistent than trucking due to the low cost of diesel fuel
Bucking US trends, The Richmond, VA Marine Terminal has handled 24% more cargo volume in 2020; the growth is attributed to an increase in agricultural trans-loading and food distribution center demand
---
Shaprio's Import Ocean Freight Report
India and Pakistan:
ShapLight Focus: US import rates from India sit at 81-84% compared to Asia, and Pakistan rates are just 62-65% on the same scale
Ocean rates from India to the USEC have been remarkably stable during COVID with a spread of just 6% from high to low since March
Similarly, ocean rates from Pakistan have shifted just 9% from high to low since February with June levels establishing the low
Ocean rates to the USWC from both India and Pakistan have been much more volatile, with a 33% increase from India in the last month and a 15% increase from Pakistan over the last six weeks
Continental Europe and the Mediterranean:
ShapLight Focus: While WC and EC rates are currently within 15% for Asia, imports from Europe to the USWC are roughly 40% higher than USEC rates
In 2019, import rates from Continental Europe varied just 6% from high to low; 2020 has been much more volatile, with a 16% variance from the top to the bottom of the market
Current average 40' rates from Northern Europe are $2000 to New York and $3300 to LA
Rates from the Mediterranean have been gradually descending since March with a July GRI expected to be offset by lower BAF levels
Current rate levels out of the Mediterranean are about 5-6% lower than Northern Europe's numbers
Latin America:
ShapLight Focus: Despite our best efforts, there are times when our ShapLight research does not reveal a story; while COVID has wreaked havoc on origin trucking and port operations, the rate picture for Latin America (both coasts) to US (both coasts) has been remarkably flat for several months
Typical ocean rates from West Coast Latin America: $1550/40' to either coast
Typical ocean rates from East Coast Latin America: $1700/40' to USEC and $2400/40' to USWC
Asia and Transpacific:
ShapLight, Fact of the Week: After rising $1077 in two weeks, the US West Coast (USWC) spot rates from Asia reached a ten-year high of $2755 per FEU
While June demand still trails 2019 by over 10%, suppressed capacity (primarily in the form of 74 blank sailings in May and June) have allowed carriers to increase rates 184% to the West Coast and 128% to the East Coast since May
Total US imports from Asia were down 18.3% in March, 1.7% in April, and 18.5% in May
There is growing tension between BCOs and ocean carriers with the carriers claiming that importer forecasting is uneven and no-show bookings are at all-time highs; for their part BCOs believe that carriers are making excuses for the suppression of supply
BAF charges will decrease on July 1, while actual reductions vary tremendously by ocean carrier; industry pundits estimate the average savings to be 4% per 40' to the US East Coast (USEC)
A whopping nine ocean carriers are now offering "premium" services with faster guaranteed transit times and greater space protection at markedly higher rates
Despite a decline in blank sailings, the trade expects a GRI of between $200-$300/container on July 1 for both coasts and Chicago
Please note Shapiro's forecast for future rates on the Transpacific trade: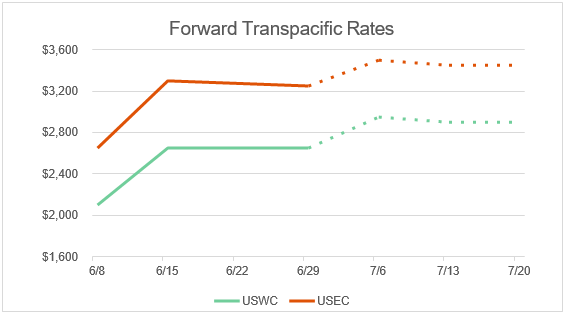 In a World of Bad News, a Few Silver Linings
ShapLight Focus: As New Yorkers celebrate their phased re-opening, fireworks complaints in the five boroughs have exploded by 40,000%; there have been 11,275 complaints in the first three weeks of June alone!
US domestic flight searches online are down just over 40% in May-June after having been down 80-95% in March-April
The IMF has forecasted global GDP growth of over 5% for 2021
For June to date, $46.7 billion in US high-yield "junk bonds" have been sold, already the highest total in history
The Senate voted to pass the Great American Outdoors Act, which frees $20 billion for repairs and maintenance of America's national parks and public lands
Netflix CEO Reed Hastings and his wife Patty Quillin are gifting $120 million to historically black colleges and universities with the goal of supporting 600 students over the next decade
---
Shap Fact of the Issue:
US home-buying activity is up 25% in May to June after having been down 21% in April.
---
The leadership and staff of Shapiro understand the personal and business anxiety each of you is experiencing. We want nothing but safety today and a return to normalcy tomorrow for you and your families. Please reach out to us if you have any questions—or if we can assist you in any way.
---
Up Next: USTR Announces Additional Duties on French Luxury Goods