Shapiro Caters to eCommerce and Traditional Shippers Alike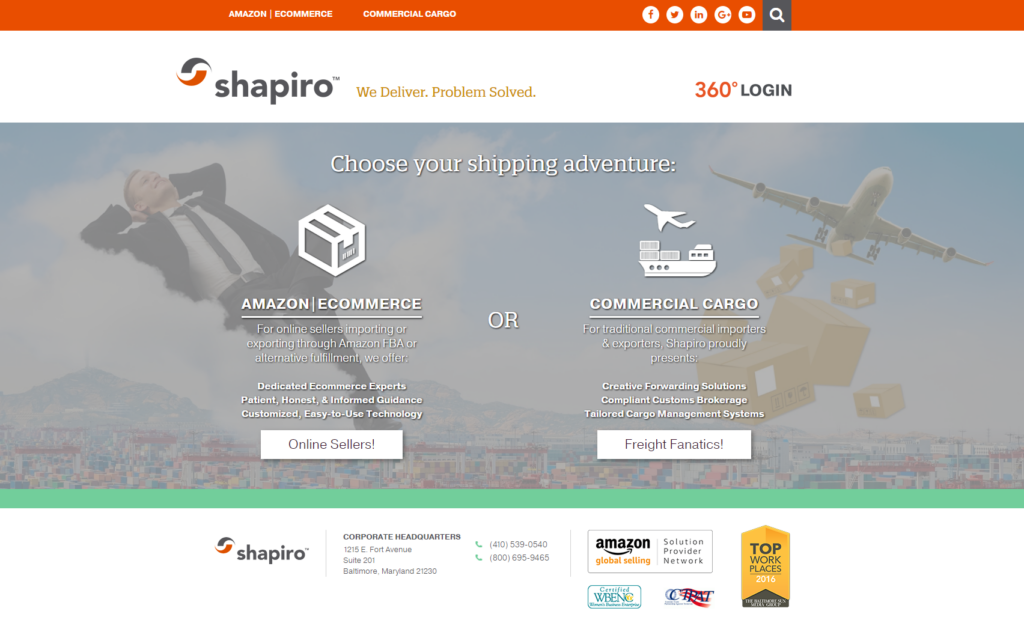 Shapiro, the 102-year-old Baltimore-based leader of international freight forwarding and regulatory compliance, has relaunched its web presence to better cater to both its audience of online sellers and the Company's traditional, commercial importers and exporters.  With a reputation for its quirky spin on supply chain, Shapiro's new website is full of customized information, tools, and resources designed to better empower importers and exporters of all sizes and all shipping needs.  Visitors will be asked to choose their shipping adventure from the landing page, but can easily navigate between both sides of published content.
Ecommerce and Amazon sellers are able to access a vast array of information tailored to educate less experienced shippers through the complexities of international logistics.  Chock-full of educational tools, Shapiro's increased emphasis on visual content helps to assist creative entrepreneurs expand their Amazon and ecommerce business across global markets.  Online sellers will also enjoy Shapiro's "VendorLand" portal, which provides customers with categories of vetted, business solutions that mirror its exceptionally high standards of customer service.
Importers and exporters venturing through the Traditional Cargo side of the website will find easy-to-read and useful information on tailored supply chain solutions and regulatory compliance. Exclusive resources featured in our Ship Smarts and Free-Sources sections provide deep, varied, modern, and highly relevant industry content.  Appreciating that there is no end in sight to tumultuous regulatory implementations and shifting freight trends, traditional shippers are invited to access and subscribe to strategic content that helps train and optimize their own supply chain operations.
"We're delighted to once again deliver a more accessible approach to logistics marketing."  said Margie Shapiro, Shapiro's third-generation owner and President.  "We kept it quirky and fun while filling the site with deep-dive content and powerful resources for supply chain and trade compliance management.  Our site is built to assist Amazon FBA merchants and the multi-national giants coping with ACE or POM.  We welcome all international shippers to experience the Shapiro difference."