Featured Headlines:
Section 301 Exclusion Extensions
The USTR will extend 81 of 99 Section 301 tariff exclusions on products used to treat COVID-19 for an additional 6 months.
The extended Section 301 exclusions will apply to products meeting the specified criteria until May 31, 2022.
The remaining 18 exclusions will not be renewed and will instead expire on November 30th.
EU Cancels Additional US Tariffs
The US announced that it will end Section 232 tariffs on a set volume of steel and aluminum products imported from EU.
In return, the EU will not proceed with additional tariffs on certain US goods which were scheduled to take place on December 1st.
Want more details? Read the full US 232 EU Statement.
Government Implementation Updates
USDA Implements New Phytosanitary Certificate for Export and Phytosanitary Certificate for Re-export.
APHIS also implemented a validation tool to verify the authenticity of PCs online using the PCIT Certificate.
West Coast Emergency Fees Prevail
Since the introduction the Emergency Fee Surcharge for the LA/LB port, the number of containers subject to this fee has dropped almost 26%.
The fee has also caused ocean carriers to respond by bringing in sweeper ships to remove empty container from the docks.
Starting November 15th, LCL consolidators will pass on the LA/LB fee for containers dwelling 9 days or longer.
The fee will be passed along on a pro-rated basis even though their customers do not have control of when they out-gate containers.
Pressure is being felt from all sides to resolve the congestion at the LA/LB ports; the improvements might be small, but they do not go unnoticed.
American Airlines Goes MIA
American Airlines will implement a new pick-up policy effective November 18th due to overwhelming cargo volumes at Miami International Airport (MIA) cargo terminal.
The policy intends to mitigate safety concerns resulting from these high volumes as well as offer customers an improved and more efficient pick-up experience at the terminal.
Once the fee starts, there are no exception days; fees will still be charged on weekends and holidays.
Incoming Pier Pass Increase
Pier Pass will increase from December 1st through January 31st at the LA/LB ports from 7 AM until 5:59 PM.
The cost will be $78.23 per TEU (twenty-foot equivalent unit) or $156.46 for all other container sizes.
Want more supply chain news? Check out Supply Chain Reactions for a condensed update for American shippers!
---
Promotion: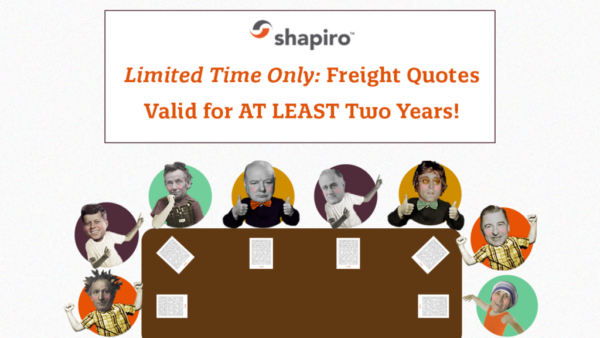 Chitty Chitty Bang Bang
Transporters called a nationwide strike in Bangladesh over a fuel price hike on November 5th.
Movement of cargo is severely delayed, and trucks are not moving; loading of containers has stopped and any that were loaded are now at off-dock locations.
Due to the ongoing strike, schedule integrity of all vessels berthing is severely affected; many vessels which were scheduled to sail this week could not depart from CGP due to non-completion of container operation since all the export laden boxes got stuck at off-docks.
If the strike continues, vessel waiting time for berth as well as port-stay time will be prolonged further and port C/Y is going to face imminent space constraints.
Privacy Laws Cause Pause in China
China implemented new privacy laws on November 1st which are currently having an effect on terrestrial AIS data transmissions.
The providers are pausing the transmissions until they better understand the regulations.
As a result, confirmations of actual departures and actual arrivals at Chinese ports may be delayed.
Possible Delays from Republic Day in Brazil
Brazil will celebrate Republic Day on November 15th (Monday).
Queue Increased Dwells in the Swells
Earlier this week the queue of anchored ships in Southern California reached 92.
The Pacific Maritime Association, the Pacific Merchant Shipping Association, the Marine Exchange of Southern California and individual companies enacted a new queuing system for dwelling ships.
Effective November 16th, eastbound ships will be required to anchor 150 miles west of the coast; North and South-bound vessels will not be able to come within 50 miles of the shore.
Air Passenger Market Analysis
Global air travel has picked up significantly this month; the growth can be largely attributed to the recovery in domestic markets, in particular China where some travel curbs that had been implemented during COVID outbreaks were lifted.
Travel bookings point to further passenger growth across domestic and international markets, but any significant improvement looks unlikely in the near-term.
IAG Cargo Ramps Up Capacity
IAG Cargo ramps up capacity between Europe, UK and US as passenger flights increase.
Beginning November 8th, IAG Cargo customers will be able to access additional capacity on many destinations across the US as well, including flights into New York, Austin, Miami, Philadelphia and LA.